Match Technical has been producing super camera accessories for some time. In particular their 'Thumbs Up Grip' designs for various camera models are by far their most successful and innovative product. I have used them on many of my cameras in the past, Fuji X100, Fuji X-Pro1, Fuji XE-1, Leica M8/M9 and Leica 240 to name a few. Obviously I am a fan, so it comes as no surprise that I was very excited to receive the NEW Thumbs Up EP-SQ2 grip from Scott at Mainline Photographics in Sydney.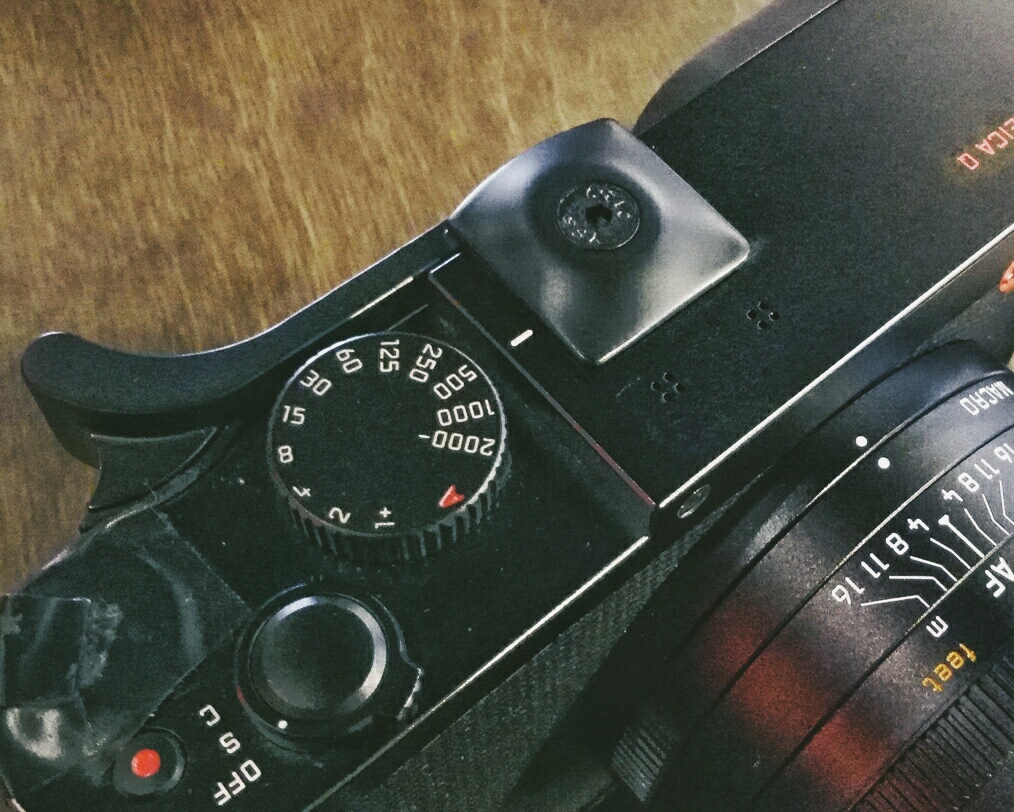 This is a slight redesign of the original EP-SQ (above). I am sorry to say that the original had a tendency to slide out of the hot shoe. I have personally lost a Thumbs-Up grip from my Leica Q in this very manner. The new edition of a small lock screw on the top of the hot shoe placement (images to the right) is the remedy, and so far so good. It fits nice and snug and as expected. The handling of the camera is like chalk and cheese, a NO BRAINER.
I think there would be few people, who after trying a Thumbs Up grip on their camera, would not make the purchase (money willing). I know there are many nasty fakes on eBay but I am here to tell you just forget it and get the real thing. The design and craftsmanship that has gone into Match Technical's grips is worth every penny. WECC member Nick Bedford had one cheap $10 grip arrive only to be loose enough to fall out of the hot shoe if he wasn't careful.
I was always so surprised as to why camera manufacturers themselves do not produce such accessories. Leica offer their Finger Loop accessory but in my opinion it's lame and clunky. Before you have a go at me, I purchased one for my Leica Q along with the grip from day one of owning the camera. I used it for about 6 months until it came away from the grip one day and plummeted to the floor, to my horror, hitting the concrete and damaging the top plate, disabling the use of the exposure compensation dial in the process.
My taped up Q above in the video is the giveaway. Shit design, and if you do a bit of Googling I am by no means the only person to have this happen to their Leica camera and Leica Finger loop combo.
Surprise, surprise! With the announcement of the Leica M10 (phenominal release!) came their very own hot shoe "Thumb Rest". Apparently plagiarism is the highest form of flatery. Match Technical must be smitten as it appears they now have the endorsment of a prestige camera brand touting their design brilliance.
According to Leica:
"Sliding the thumb support into the hot shoe enhances the ergonomics of the Leica M10. With the thumb pressed up against the thumb rest, the camera can be held much more steadily and is easier to handle. It makes single-handed shooting much steadier and enables the use of longer shutter speeds without the risk of camera shake. The thumb support is CNC-machined from brass and is finished in the same classic surface coating as the Leica M10 to ensure a perfect match when attached."
Welcome to the 90's Leica! I have no idea why it has taken so long to provide their own thumb grip (rest). I am pleased they have at least, and with Leica's price of $290 AUD, Match Technical's original Thumbs Up is still a worthy option and I, like many, will stick with their option over Leica's considering the quality is as good, if not better.
Conclusion
In the end, the use of a Thumbs Up grip has been a huge increase in comfort for me and many of my colleagues and friends who also choose to use them on their cameras. Members Nick, Hannah, Tyler, Jeremy and others to name a few, swear by them, so do yourself a favour and invest in one of these. You won't regret it.
Source (images Leica Thumb Rest http://www.leicashop.com/)